Turkey & the mystic journey
Couldn't be a better destination to start the World tour of my mind posts than the amazing country of Turkey.
Konya
Certainly not the most known city for tourists, but the seventh most populous town is full of mysteries. Two years ago, I didn't know anything about this place, and in some circonstances that I will sum up in one word : Destiny, I heard about an old poet who wrote about 25000 lines of poems that directly or obliquely deals with Love. Jalal Din Rumi, also known as Mevlana, created centuries ago, with the help of Shams of Tabrizi a ceremony that consists of a dance to prove their deep devotion to god, and then the whirling dervishes were born in Konya…That's for the wikipedia part. After more than 50 books read about the story, the poems, and being hypnotized by he wisdom of these men, I felt the need to go there, which I did.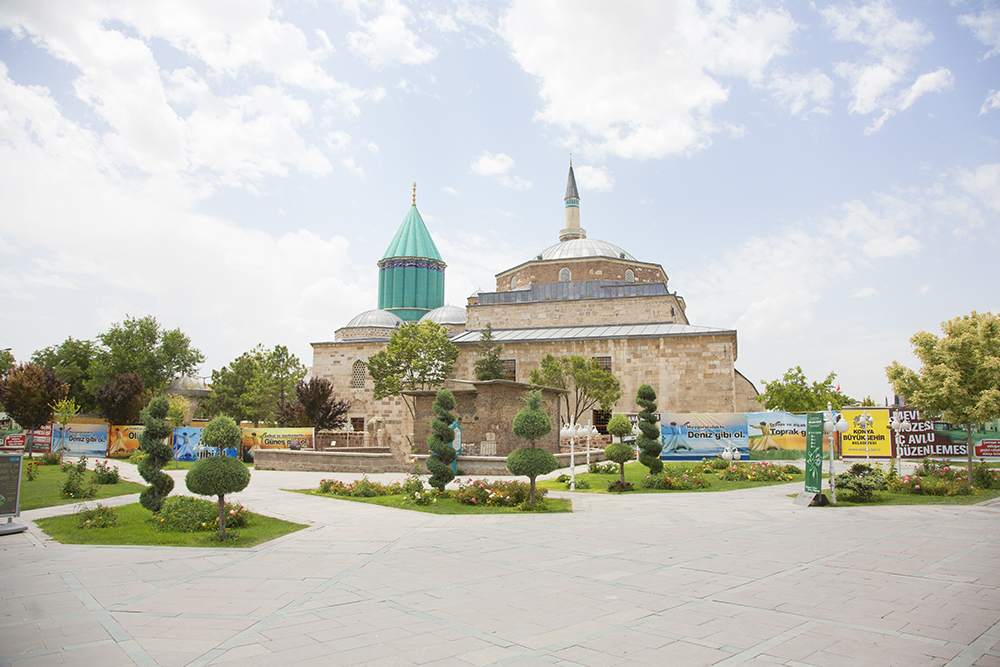 First stop was the Musuem of Rumi, where you can find its tomb, a place full of emotions and good energy. I was clearly surprised by all the people coming from all around the world and from different countries and religions to share this particular moment, at this right moment, in the peaceful silence we were one.
One day, I read this quote somewhere « who really remember the second man who walked on the man« , which is kind of true. For the record, shams of Tabriz was the teacher of Rumi, he might not be as known as his student, but his heritage and his influence on the poet cannot be denied. So I decided to visit its mosque where he is also buried, much smaller than the previous one but has nothing to envy in terms of the harmonious atmosphere.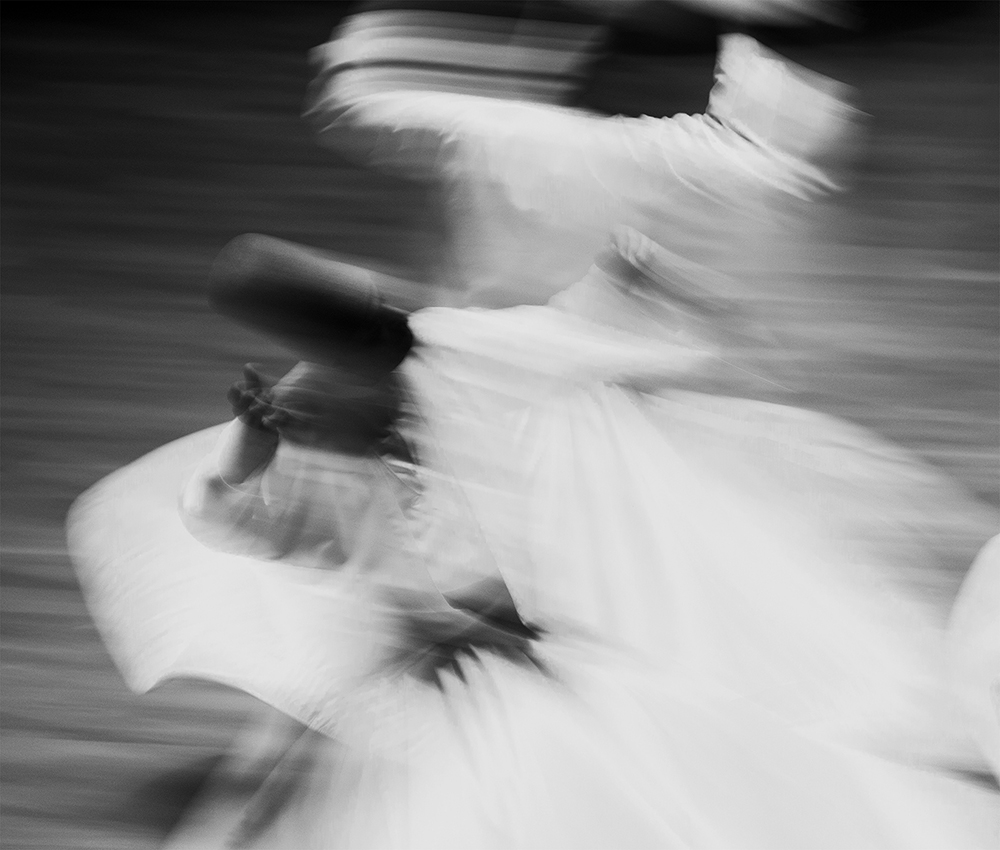 Each saturday at 9pm more than 30 whirling derviches perform in the Mevlana center, depending on the weather there are two amphitheaters of almost 2000 places each. This free worship act is a habit in this city, a spellbinding commitment that will probably give you the best sufi experience of your life. If you tried a Sema before (name of the ceremony) in another city, more particularly in a tourist area, you should definitely give a try to this one. For the most curious there is the international Festival of derviches in December.
Do not miss İnce Minare Medresisis, the museum of wooden and stone craving worth the look almost only for its gigantic door. Karatay Medressi, the impressive and outstanding beauty of the walls make it a must do in Konya, Alaeddin Tepe for its calm park and the antique columns and the minbar.
I have to say that I was overwhelmed by the powerful emotions in this city, people are really nice out there. It seems that after the heritage of Rumi, even hundred years later, Time stood still in a glimpse of what heaven could look like.
Cappadocia
3 hours by bus from konya, deeper in the asian side, there is this historical region called Cappadocia. Goreme is the main town where you absolutely have to stay, spend a night that you won't forget in a traditional cave room. The national park is famous for rocks with some surprising shapes designed by mother nature, there are plenty of things to do here :
Air ballooning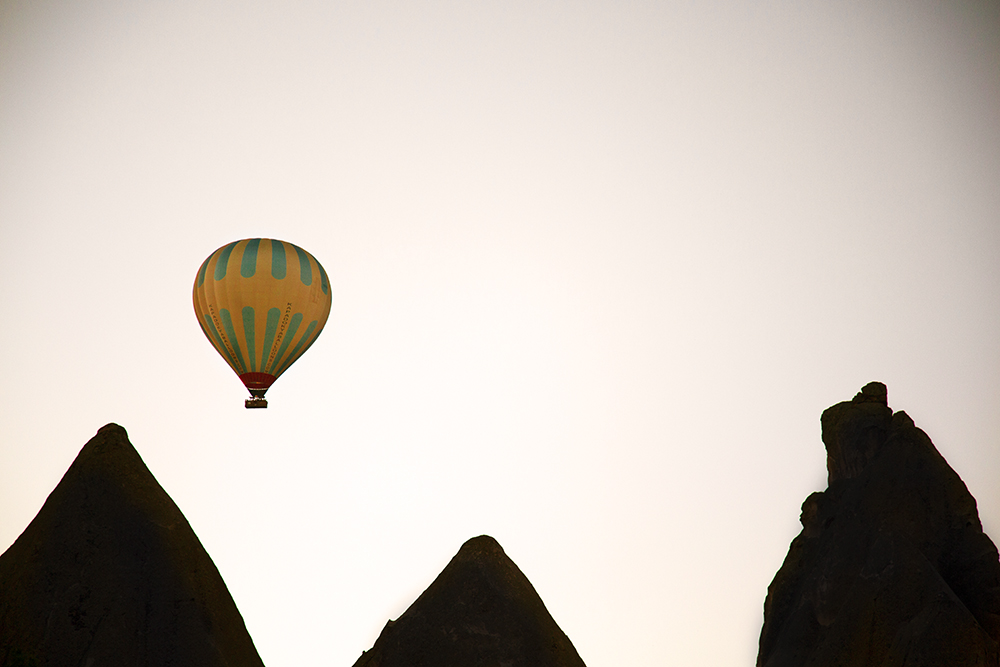 I can understand that you might be afraid of gaining height, or you can suffers from vertigo, or you are too lazy to wake up at 4am but going to Goreme without trying the oldest successful human-carrying technology is unthinkable. If on the ground the rocky mountains look fantastic, from the air it's another world, the view is breathtaking with a sunrise that illuminates the valleys. Sometimes the aircraft floats inside canyons making the experience even more interesting (at least for me).
Don't need to book your flight days before, in fact you can have a better price when you book it there one day before the big leap.
Ride and hike
This UNESCO World heritage region is too big for your small feet, you will need a means of transport and not any kind. If you can ride a bike, or even better a scooter / motorcycle / ATV don't hesitate, driving in this area under open sky is so delightful and entertaining, it will make you enjoy the stunning scenery. Start hiking near all the spots that you want to see, for example there is a mountain that you can easily climb in front of Çavuşin Churches and will give you a much better view than from the ground.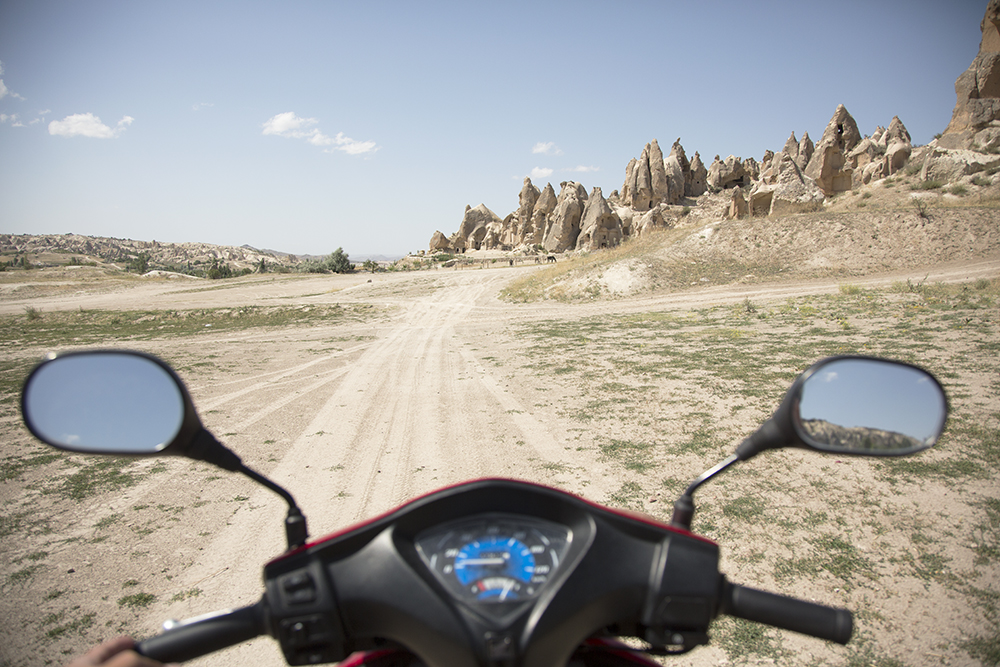 My fav spots : Çavuşin Churches, Love valley, the underground city, Uçhisar Castle for the sunset, Pasabag. Didn't like that much the open air museum, but don't miss the dark chuch there, you will have to pay a little extra for it but it worth it.
From Byzance to Istanbul
Last but not least, the new Constantinople deserves on its own an entire city guide, instead of giving you the most famous places where to go, or the common things to do, you will find here a different perspective. That doesn't mean that you don't need to see the blue mosque or Topkapi if it's your first time here…
Street (he)ART
In few years, Istanbul became one of the most artistic city in the world, if you pay attention, you will quickly notice that tons of street paintings adorn the walls of the city, it's like an open museum, there is even an app to spot the best pieces street by street and a one day art tour, going on both continent parts, another and original way to visit the city.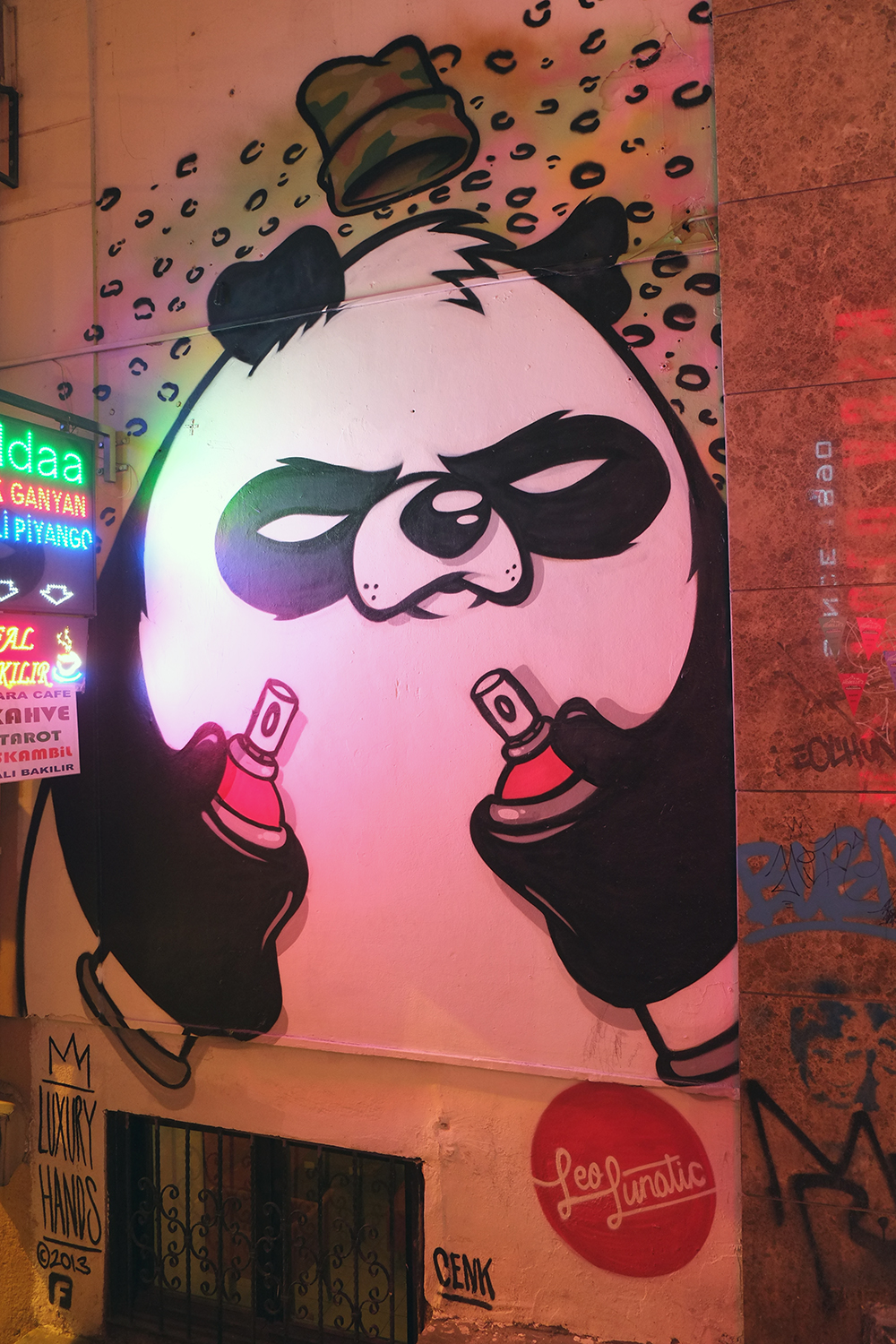 Eat, pray, love, repeat
Please avoid the tourist traps, like restaurants near Galata bridge, here you will find the finest places where to eat, accessible to all budgets.
5 kat will offers you a stunning view over the bosphorus, featured in the world's best rooftops by the guardian, Believe me, you don't want a miss the sunset there.
Meze by lemon tree, probably the best meal in Istanbul, this small restaurant is always full, you will need to make a reservation (2 or 3 days) before to taste their extraordinary dishes.
Istanbul culinary insitute, great value, not that expensive and perfect for a mix between turkish and international cuisine, special mention for the hummus
Cafe firuz, best place for summer breakfast, this friendly cafe located in the peaceful area of Cihangir is highly recommended.
Karaköy Lokantasi, if you are looking for a fresh home cooking dish and a warm atmosphere, this place is a must for Istanbul.
Istanbul has more than 3000 mosques, if Sultan Ahmed and Süleymaniye are the most famous ones, you still can find small, unknown ones which are very interesting.
KILIÇ ALI PAŞA MOSQUE, built in 1586 and situated in Tophane district, this mosque is uncommon in term of history and design, it has a very unique interior.
Rustem Pasha Mosque, near by the Egyptian market, this hidden treasure is one of the most beautiful mosque in my opinion, the iznik tiles make it very impressive. It's hard to find but worth all the efforts.
Turkey is full of mysteries, and thanks to its history, there are plenty things to see and to learn, not only about the country but also to discover your deep self. Just In case you didn't know it, Buzz Aldrin was the second person to walk on the moon, being second, last or whatever means nothing as long as you have something deep inside you called LOVE
Last but not least, this is a poem of Rumi that I could read everyday, and it's even better with this song : Nu – MAN O TO
Out beyond ideas of wrongdoing and rightdoing,
there is a field. I'll meet you there.
When the soul lies down in that grass,
the world is too full to talk about.
Ideas, language, even the phrase « each other » doesn't make any sense.
More photos of the trip